Celebrity News
Rihanna Enjoys Music and Family Time at Coachella in Style
Rihanna Smashes Elvis Presley Record

MORE…
Rihanna Covers Paper Magazine (Pics)
RIHANNA NOW HAS MORE TOP 5 HITS THAN THE KING OF ROCK AND ROLL EVER HAD.
Barbados' pop princess Rihanna has work, work, work, work, worked her way up to yet another record in the music industry.
This time, with "Love on the Brain," she has bagged her 22nd top five hit on the Billboard Hot 100 chart, breaking away from The King of Rock and Roll, Elvis Presley, on the most top fives of all-time list.
Now the sole holder of fifth place, RiRi sits below The Beatles (29), Madonna (28), Mariah Carey (26), and Janet Jackson (24), according to Billboard.
The multiple Grammy award-winner took to Instagram to celebrate the achievement.
"Glory be to God," she wrote. "I have the best fans in the world! Thank you to everyone who's supported #LOTB in such a major way, moving it forward to #5 this week on @billboard Hot100!! God is so great! #top5shawty."
The all-time list for most top five Hot 100 hits also includes Michael Jackson (20), Stevie Wonder (20), Elton John (19), Whitney Houston (19), Paul McCartney (16), Usher (16), and The Supremes (15).
"Love on the Brain" made the top five on this week's Hot 100, which was led by Ed Sheeran's "Shape of You." Migos' Lil Uzi Vert-assisted "Bad and Boujee" notched the No. 2 slot, Bruno Mars' "That's What I Like" danced to No. 3, and Zayn and Taylor Swift nabbed the No. 4 position with "I Don't Wanna Live Forever" from the motion picture "Fifty Shades Darker."
Jamaica's Sean Paul also made this week's Top 10, in at No. 9 with Clean Bandit's "Rockabye" featuring Anne-Marie.
Rounding out the Top 10 were Kodak Black with "Tunnel Vision" at No. 6, The Chainsmokers' "Paris" at No. 7, Big Sean's "Bounce Back" at No. 8, and The Chainsmokers, featuring Halsey, with "Closer" at No. 10.
MORE…
Rihanna Makes it To Harvard and Students Go Wild
Uber talented and sexy superstar singer Rihanna covers the March "Break the Rules" issue of Paper Magazine.
The "Pon De Replay" hit  maker is beautifully photographed by Sebastian Faena. Check out some of the pics below, then head over to Paper to see the full set. http://www.papermag.com/rihanna-paper-2293524292.html
MORE…
Rihanna "I've Wanted Dreads Since I Was 14 Now I Got Them"
POP STAR RIHANNA RECEIVED THE HARVARD FOUNDATION'S HUMANITARIAN OF THE YEAR AWARD AT SANDERS THEATRE AT HARVARD UNIVERSITY. (PHOTO: ROSE LINCOLN/HARVARD STAFF PHOTOGRAPHER)
It was all very Rihanna – from the style to the speech to the crowd's reaction.
From the time the Barbadian superstar walked onto the stage in Harvard University's jam-packed Sanders Theatre yesterday to accept the Harvard Foundation's Peter J. Gomes Humanitarian Award, she was in control of the crowd that had waited hours to get a coveted seat.
"So I made it to Harvard," the pop star opened up her speech, smirking and flipping her ponytail as the crowd went wild. "Never thought I'd be able to say that in my life, but it feels good."
Her acceptance speech was dotted with humour like this, but she was very serious as she spoke about what a humanitarian is to her and challenged students to help at least one individual or organisation.
"I know that each and every one of you can help someone else. All you need to do is help one person, expecting nothing in return," Rihanna said. "To me, that is a  humanitarian. People make it seem way too hard, man. The truth is…that you don't have to be rich to be a humanitarian, to help somebody. You don't have to be famous. You don't have to be college-educated."
Recalling the commercials she saw as a child, which asked people to donate as little as 25 cents to help children in need, Rihanna said she had promised that when she got older and "got rich", she would "save kids all over the world".
"I just didn't know I would be in the position to do that by the time I was a teenager.".
Rihanna's first charity, The Believe Foundation, was created in 2006 when she was just 18 years old.
During her speech, Rihanna honoured those who inspired her various charitable efforts, including her late grandmother whose battle with cancer was the driving force behind the Clara Lionel Foundation, and a six-year-old girl who died of leukaemia.
Passing on a piece of advice from her grandmother, Rihanna told the crowd as she closed: "If you got a dollar, there's plenty to share."

Rihanna charitably built an oncology and nuclear medicine to diagnose and treat breast cancer at the Queen Elizabeth Hospital in her homeland, Barbados.
She has also set up a scholarship programme for Caribbean students studying in the United States and supports the Global Partnership for Education and Global Citizen Project, a multiyear campaign that will provide children with access to education in over 60 developing countries, giving priority to girls and those affected by a lack of access to education.
Rihanna "I've Wanted Dreads Since I Was 14 Now I Got Them"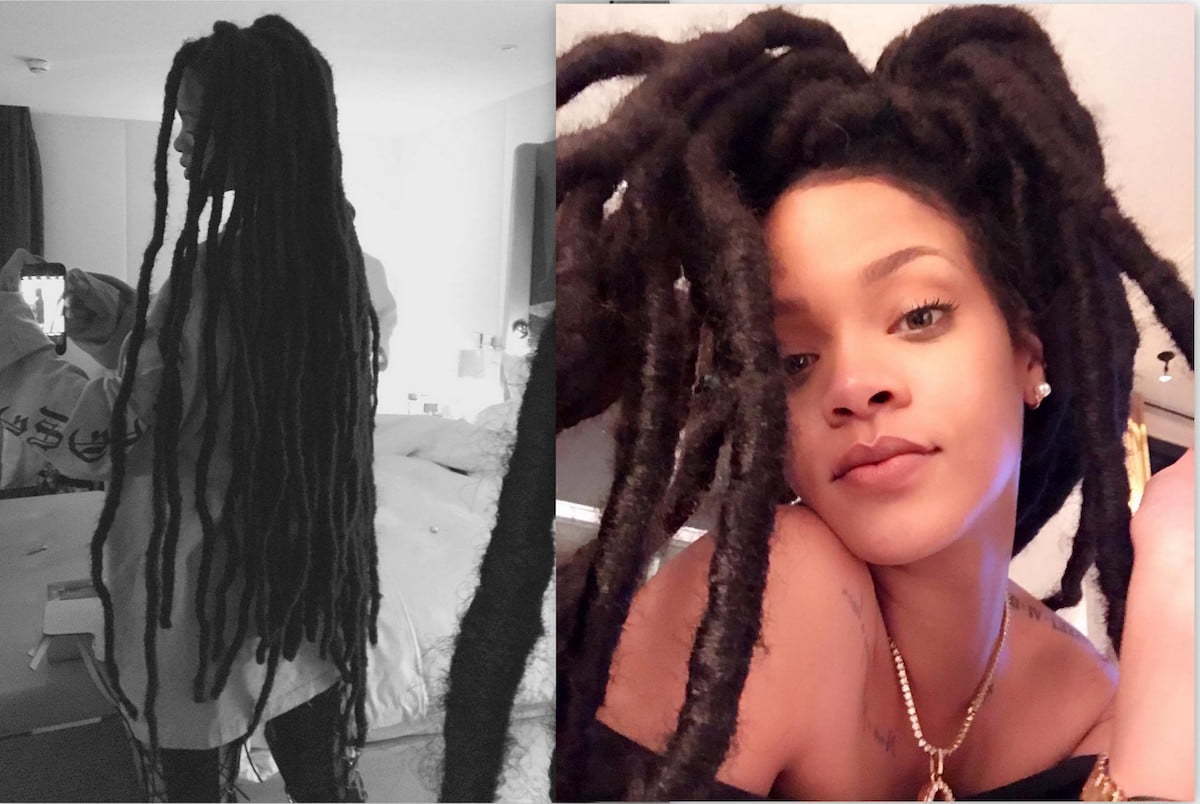 Rihanna always wanted dreadlocks since she was a teenager and now she got them even if they are not authentic.
The Bajan pop star debuted her new look on Instagram last night postings photos of her dreadlocks extension. "Buffalo $oldier," she captioned one of the photos.
Since she posted the pics several reggae/dancehall artists have cosigned her long thick locks including Mavado and Spice. One fan asked Rihanna on Twitter why she chose to get dreads and she responded, "since I was 14, but mama Fent'z wasn't having it! Hehe."
Rihanna has always been a huge fan of Bob Marley and his music and often credited him for paving the way for her on the world stage coming from a small island in the Caribbean.
"Bob we miss & LOVE u! U made this lil journey of mine possible by blessing the world with your legend, which lives on thru generations to come, RIP." she wrote on Twitter in 2011 while the world was celebrating the 30th anniversary of Bob Marley's death.